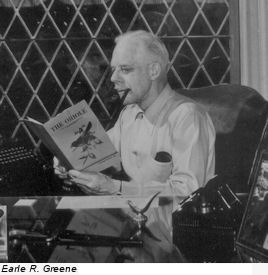 Earle R. Greene was active in GOS at the time our founding in 1936 and served as the second GOS president, 1938-1939. He is also recognized as the founder of the Louisiana Ornithological Society. He worked for a time as a refuge manager for the US Biological Survey at the Okefenokee and other refuges. He was also an avid birder and lister. He kept careful field notes of birds seen in Atlanta in the 1920s and 1930s. From these records he wrote one of the first annotated checklists printed in the state – "Birds of the Atlanta, Georgia, Area" – in 1933. He was a co-editor and a major contributor to the first annotated checklist of Georgia birds published by GOS in 1945. When he passed away in 1975, this award was established in his memory.
These awards depend on nominations, your nominations, of individuals you think deserve consideration for the award. A person with a Georgia connection may be nominated for:
•Achievement in ornithology by a professional or a citizen scientist
•Achievement in promoting birding
•Service to GOS

A person may be nominated in any of the three categories either for achievement over a long period of time or for a specific project or activity.
The award selection committee consists of Georgann Schmalz, chair, Jeannie Wright and Emily Jo Williams.
Nominations should be sent to via
USPS Mail: Georgann Schmalz
152 Willow Oak Lane
Dawsonville, GA 30534 or via email to: georgannschmalz@windstream.net

All nominations received are kept in the pending file and are evaluated by the committee each year.
E. R. Greene Memorial Award Recipients
1975 Harriett DiGioia
1976 Richard A. Parks
1977 J. Fred Denton
1978 Milton N. Hopkins, Jr.
1979 No Award
1980 Dr. Leslie B. Davenport, Jr.
1981 No Award
1982 Anne B. Hamilton
1983 George A. Dorsey
1984 Dr. Eugene P. Odum
1985 William W. Griffin
1986 Dr. Roger Tory Peterson & Dr. Norman H. Giles
1987 T. McRae Williams
1988 Dr. Franklin McCamey
1989 Dr. Joseph Greenberg
1990 Don and Doris Cohrs
1991 No Award
1992 Terry S. Moore
1993 Dr. H. Branch Howe, Jr
1994 Dr. John C. Avise
1995 Dr. H. Ron Pulliam
1996 Dr. I. Lehr Brisbin
1997 Dr. Emil K. Urban
1998 John M. Swiderski
1999 Dr. David W. Johnston
2000 Dr. Georgine S. Pindar & Dr. Chandler S. Robbins
2001 Kenneth B. Clark
2002 Paul W. Sykes, Jr.
2003 James F. Flynn, Jr.
2004 Giff Beaton
2005 Terry W. Johnson
2006 Brad Winn
2007 Bob & Martha Sargent
2008 Jeannie B. Wright
2009 Tim Keyes
2010 Georgann Schmalz & Dr. Sidney Gauthreaux
2011 Todd Schneider
2012 Dr. Robert A. Sargent
2013 Dr. Sara R. Morris
2014 Robert L. Crawford
2015 Anne L. Mursch
2016 Lydia Thompson
2017 Steve Holzman
2018 Jim Ozier
2019 Emily Jo Williams
2020 Malcolm Hodges
2021 Larry Carlile
2022 Dr. Jim Ferrari