The Oriole
A Biannual Journal of Georgia Ornithology
The Oriole, a biannual journal of Georgia ornithology, is generally published in April and October. The 75th volume was printed in 2010. Society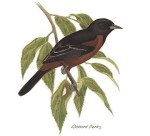 members in good standing automatically receive a subscription to The Oriole. Institutions such as libraries can subscribe by writing to: GOS Membershipc/o Shannon Fair P.O.Box 11926 Atlanta, GA 30355email: membership@gos.org
Now accepting Full Articles and General Notes for
The Oriole Volume 83 (1-2) and Volume 83 (3-4) for publication in 2019.
---
GOShawk
Newsletter of the Georgia Ornithological Society

The GOShawk contains more timely information such as project updates, meeting announcements, notes and itineraries, and recent field observations. The GOShawk is also published quarterly and is delivered to all Georgia Ornithological Society Members in good standing.